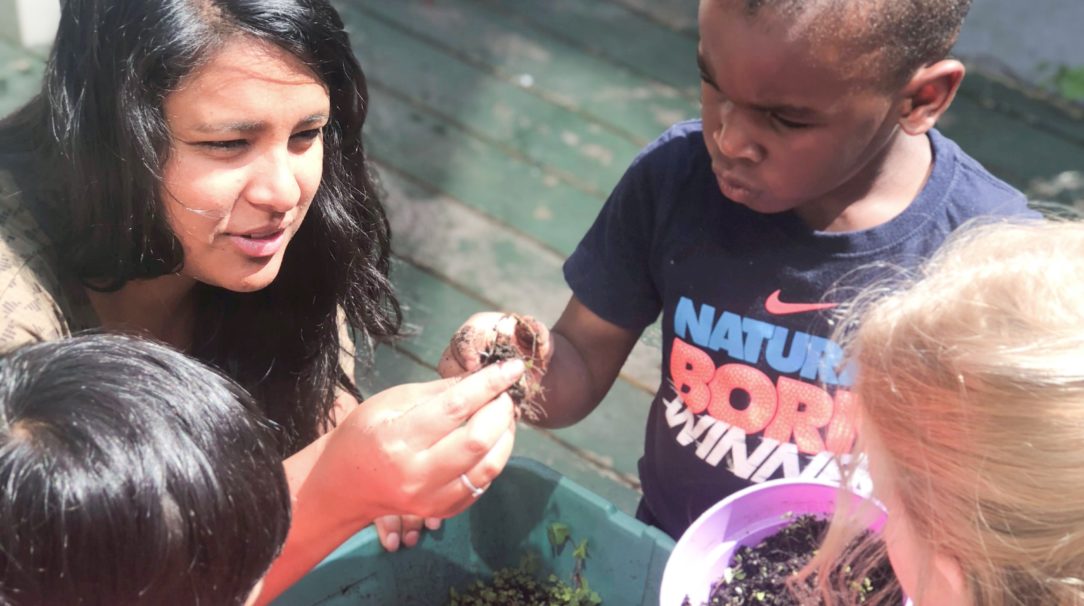 Providing Access to Opportunity for Thousands of Local Families
Family ACCESS (A Center for Comprehensive Education and Support Services) of Newton was founded over 100 years ago by a group of progressive women to provide support for the children of domestic workers employed in the grand homes of West Newton Hill.
In 1907, we opened our doors to 10 children. Just one year later, we were serving almost 300. The mission of Family ACCESS is to strengthen children, families, and the community by providing programs that nurture child development, promote effective parenting skills and provide economic mobility.
Supporting Our Community
In 2020, Family ACCESS appointed its first female Executive Director, Maureen Lister, and she is leading the organization during a time of unprecedented disruption and growth. 
"Part of our challenge has been figuring out how to be flexible and how to pivot to meet the needs of our community," explains Maureen Lister, Executive Director for Family ACCESS, "as well as figuring out how to keep everyone safe while still helping children meet their developmental milestones."
In 2020, the non-profit will serve over 5000 clients and actively engage a racially, economically, and culturally diverse population in their programs.
Over the years, Family ACCESS programs have continued to expand and evolve to meet the emerging needs in Newton and surrounding communities. During the pandemic, Family ACCESS offered 30 parent-child groups and 75 parenting sessions and embraced EMPath's Mobility Mentoring, a coaching model that supports single mothers moving from poverty to self-sufficiency. Keep reading to learn more about Family ACCESS's suite of services.
Early Learning Center
The Early Learning Center (ELC) serves up to 144 children each year in NAEYC accredited, inclusive care and preschool education for children from infant through Pre-K, with 20% of slots subsidized for low-income families. With the forced closing or reduced capacity of many childcare centers during the pandemic, ELC has continued to provide safe, affordable childcare, offering full-day, full-year programs.
"Access for families to quality care for their children is very difficult for a variety of reasons," says Wendy Valentine, Program Operations Director. "The cost of care in Massachusetts is the highest in the nation. Many families were impacted financially by COVID illness and related loss of employment, so there are many challenges for families in finding and affording care in our local community." 
Our COVID-19 Response
During the height of the COVID-19 pandemic, the ELC focused on new strategies to support working families as they continued to cope with the impacts of the pandemic. In August 2020, our ELC program had to graduate preschool children with families that could not utilize remote kindergarten for their children. That's why we started an in-person kindergarten program for this group of children.
We also saw another need emerge in the community when families approached them with concerns about how the loss of group social experiences over the past year would impact their child's readiness for school in the fall. A new transition program, open to all families in the community, was created for children who have never been in a classroom setting before or who had been out of the classroom in recent months and planned to enter a program in the fall.
"Our building is full of laughter and joy, and we know we have happy and thriving children, so that keeps us all going," enthuses Valentine.
Counseling and Consultation Services
Counseling and Consultation Services (CCS), a two-generational intervention, includes home-visiting to respond to developmental/behavioral challenges, young parent support services, including counseling for pregnant and parenting teens, and economic mobility coaching to help families become financially secure.
"Many of our counseling and consultation clients were reporting to us that they were struggling to purchase diapers, so we decided to try something new and set up a diaper drive," says Valentine. "We thought we might receive a few boxes and ended up with a wall of 8000 diapers in just two weeks from families in the community." 
Early Literacy Services
Early Literacy Services (ELS) offers home-based and community programs in literacy and early reading skills for families whose children are not attending preschool. During the pandemic, they offered virtual home visits with literacy specialists and Zoom groups to promote reading strategies and engagement. Their programs ParentChild + and Raising-a-Reader are national, evidence-based literacy programs that model interactive and shared reading for parents with young children.
Child Assault Prevention
The Child Assault Prevention Program (CAP) teaches children the importance of assertiveness, peer support, and turning to trusted adults for assistance. Before the pandemic, CAP reached 3100 elementary students in three communities. During the 2020 school year, when so many classrooms met virtually, CAP developed innovative online resources for parents and teachers.  
As Family ACCESS prepares for the next 100 years, we see a growing demand for services and shrinking state and federal funds. However, we remain deeply committed to providing the best education-based resources and programs and helping families achieve their goals.
Valentine stresses that the Family ACCESS team works with many struggling, high-needs families in multiple languages with unique needs. "Our commitment to providing the best opportunities for all children in our community to grow and learn continues."
To schedule a tour of our facility, please get in touch with us here.