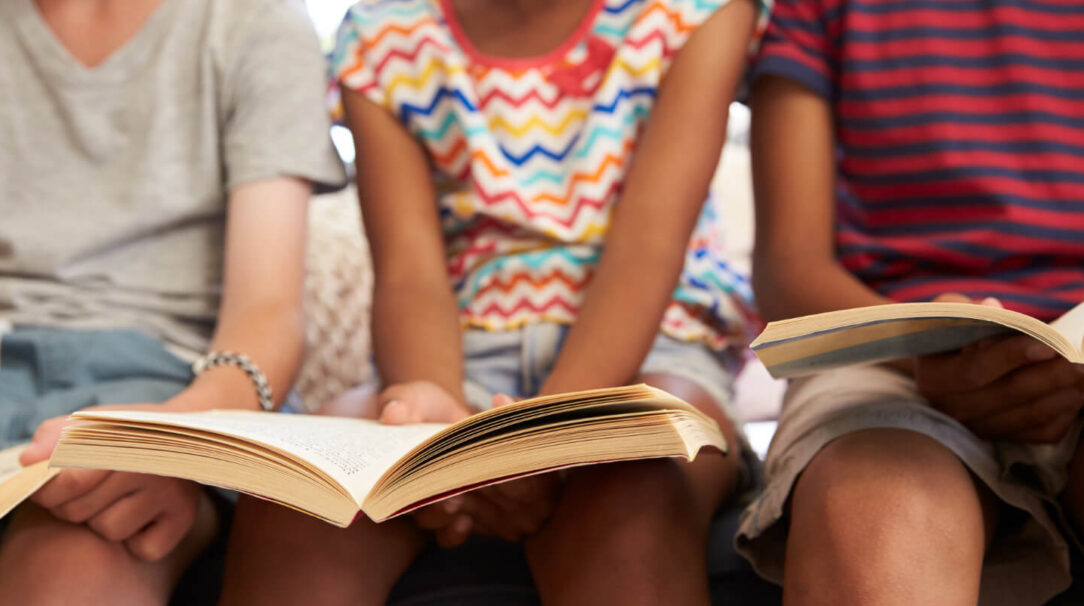 Raising Young Readers: Five Early Literacy Tips for Busy Families
All families are busy families, so how is it possible to find time each day to read with your child to encourage early literacy? And why does early literacy matter? The first five years are the time your child's brain will develop the neural connections they need to navigate life successfully. While a child's brain is only one quarter the size of an adult brain at birth, it grows at an incredible rate, making about a million new neural connections every second. The brain doubles in size the very first year, reaching 80% of adult size by age three and almost 90% by age five.
We know when children are exposed to books their language acquisition is strengthened and their vocabularies will grow. Time spent engaging with your child around letters, words, and stories builds life-long language skills enhancing early literacy. Listening to and talking about stories expands their knowledge of the world and sparks their sense of wonder and curiosity. It is an opportunity to introduce social cues and explore cultural identities while they walk with dinosaurs and fly to the moon.
"Reading is important because, if you can read, you can learn anything about everything and everything about anything."

– Children's author, Tomie dePaola
Early Literacy is crucial to kindergarten readiness. You want your child to enter kindergarten ready for the challenges elementary school will bring. Exploring books also supports critical social-emotional skills. Focusing, asking questions, and organizing a sequence of events are all connected to early literacy and kindergarten readiness. Warm and caring interactions with your (or other adults) will expand and strengthen the neural networks in your child's brain.
How can you build a strong foundation now for a lifetime of learning? Engage with your child each day around language, stories, and books. Here are a few tips on finding the time in a busy day.
Keep Books on Hand: Stash books in the car, stroller, and in the backpack so you always have something to read together when the moment comes. Waiting for takeout or an older sibling to finish an activity is a great time to read a few pages. Don't wait for a perfect moment – just jump in! It is okay to read for just five minutes and bookmark for later.
Be a Storyteller: Tell your child stories and encourage them to tell their own. You don't need to be Eric Carle to keep their attention, a family photo album is a great prompt for a story about your family life. Grandparents and siblings have so many stories to tell. Using both oral and written language with children is important for literacy development.
Schedule Reading Time: Set a few minutes in your daily routine to read with your child every day. Breakfast, bedtime, or in between – whatever time works for your family. When looking at books with your child you can point out interesting images, use silly voices, and just have fun. Consider surprising your child by recording a short video reading them a story on day you won't have time to read together in person.
Listen to Books: Can't sit with your child right now? Play an audio version of a book while they explore their own copy of book and turn the pages. If it is a familiar book, encourage children to then read or "retell" the story to you while you are making dinner or doing the laundry.
Model Reading: Talk about and show your child that reading is fun, important, and valued in your home. Give your child a book to explore while you read the paper or a novel and model reading. Remember that words are all around us and you don't need a book to read with a child. Look for signs and labels to read in your environment and encourage your child to do the same.
Family ACCESS of Newton is excited to help be a part of the foundational learning of your children. With a little bit of time dedicated to early literacy now, you will see great rewards when your child enters kindergarten and beyond. Family ACCESS of Newton takes great pride in creating an early education environment that builds strong language, literacy, and social-emotional skills that last a lifetime.
Stay up to date and engage with us about tips that can benefit your child's learning by following Family ACCESS of Newton on Facebook and on Instagram @family.access.  
Photos:
Additional Resources: